≪Exclusive to this site≫ NOZAX.fun exclusive campaign 1st!
Free EA for MT5
The "White Bear series" EAs have remained viable for more than eight years to date. Now, "White Bear DT for NOZAX" has been released as an EA for MT5 to coincide with NOZAX's entry into the Japanese market. As the name suggests, "White Bear DT for NOZAX" is an EA with maximum expected value that contains the logic developed in the White Bear series!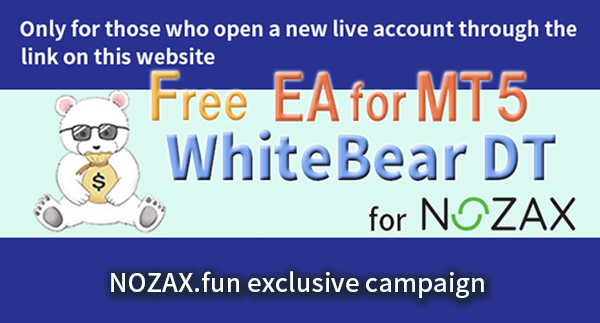 It is a plan to give free of charge EA for MT5 "White Bear DT for NOZAX" to those who open a new NOZAX account from the link on this site.
Campaign is subject to change or end without notice. Please note.
How to apply
First,

open a new NOZAX live account from

the link

on this site.
After opening an account, please resister from this page.
After confirming that the account has been opened from this site, we will send the EA to your registered email address.
What is "White Bear DT"?
White Bear DT is a day trading EA exclusively for 5-minute trades that uses M30 to determine the trend (forward) and M5 to enter in the opposite direction. The trend is charted using multiple moving averages and entry decisions are made using a combination of RSI, Stochastic, Williams %R and ADX. Positions can be held for a maximum of approximately 13 hours, but are forced to close at specific times. In addition, the position is controlled by several internal logics, including a proprietary settlement function.
Trading timeframe: 5-minute timeframe
Limit (TP)/Stop (SL): 16/115 (pips)
Time zone of entry: generally 24 hours
Maximum number of positions held: 5 (can be varied between 1 and 10)
Maximum holding time: approx. 13 hours
In some situations, positions may be held in both directions
Input Parameters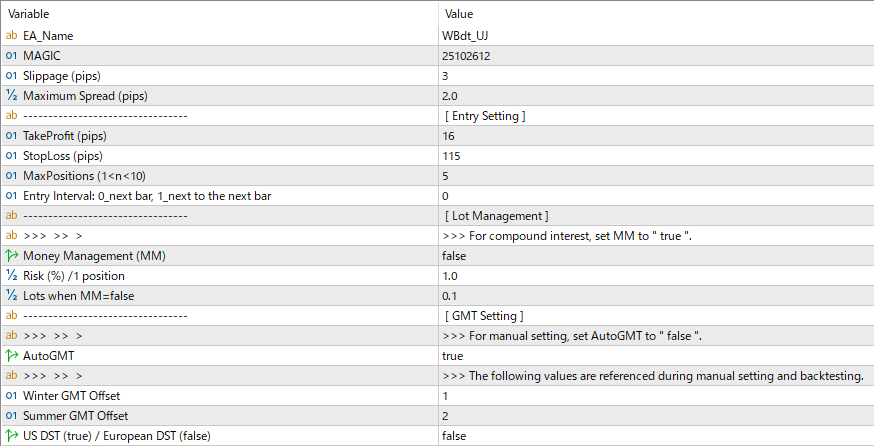 ---
EA_Name: the name of the EA as it appears in the comments. Can be changed freely.
MAGIC: A number to identify which EA the order was submitted from. Please specify a value that does not duplicate the magic number of other EAs you are using.
Slippage (pips): Allow up to a specified value (pips) of slippage between the order price and the execution price.
Maximum Spread (pips): no entry is made if the maximum spread (pips) is exceeded.
---
TakeProfit (pips): Take profit
StopLoss (pips): Stop loss
MaxPositions: maximum number of positions held (can be changed between 1 and 10)
Entry Interval: 0_Additional positions can be taken at the opening price of the next bar, 1_At least one bar interval
---
Money Manegement: true (compound interest), false (simple interest)
Risk (%) /1 position: used when compounding (MM=true); based on the StopLoss value, the number of lots is automatically calculated so that the loss per position is approximately equal to the Risk% of the excess margin.
Lots when MM=false: number of lots when simple interest
---
AutoGMT: Get the server time from the Forex trader's server and automatically calculate the GMT offset value and set it to the EA.
(Note) When manually setting or backtesting, the values set below will be used.
Winter GMT Offset: Winter time
Summer GMT Offset: Summer time
US DST / European DST: US Summer Time (true) / European Summer Time (false)
The GMT offset value is the number of hours that your vendor's server time is off GMT (Greenwich Mean Time) and must be corrected for each broker.
The GMT offset value for NOZAX is already set as the default value for the EA.
Backtest
Account: NZX Zero (ECN) (NOZAX)
Currency pair: USDJPY#
Time frame: M5
Initial balance: $10,000
Parameters: Default setting
Period: 1 Jan 2013 – 31 Dec 2022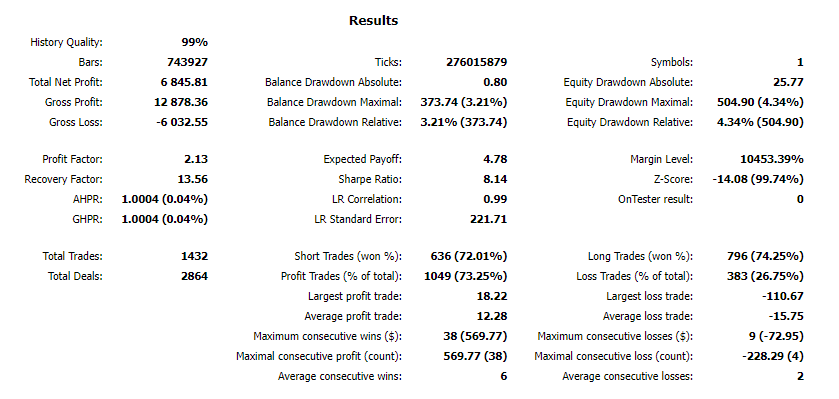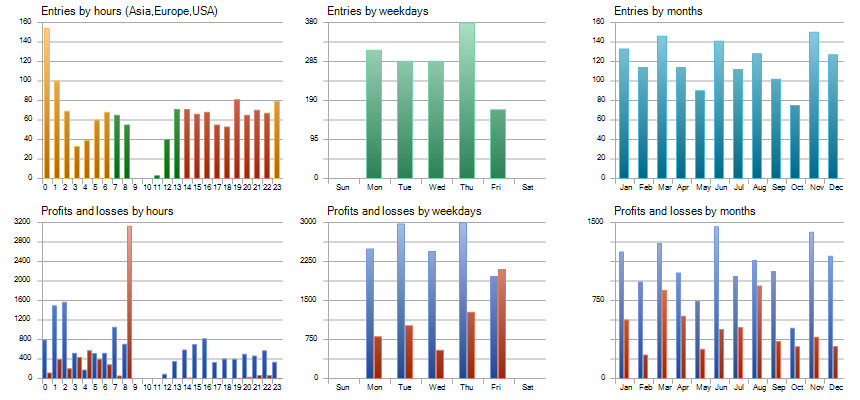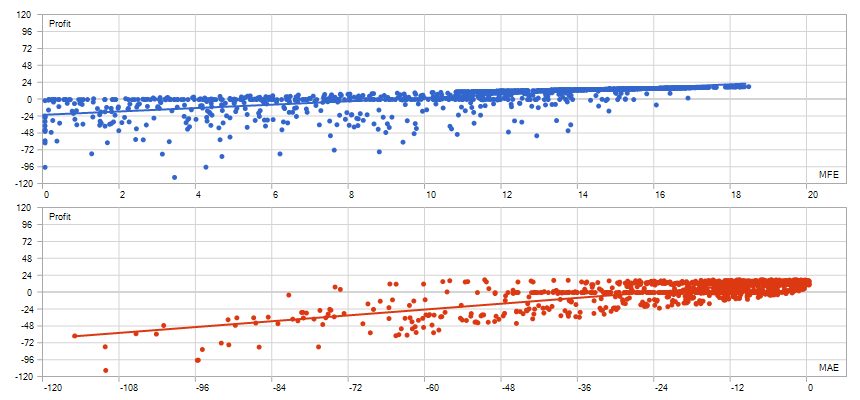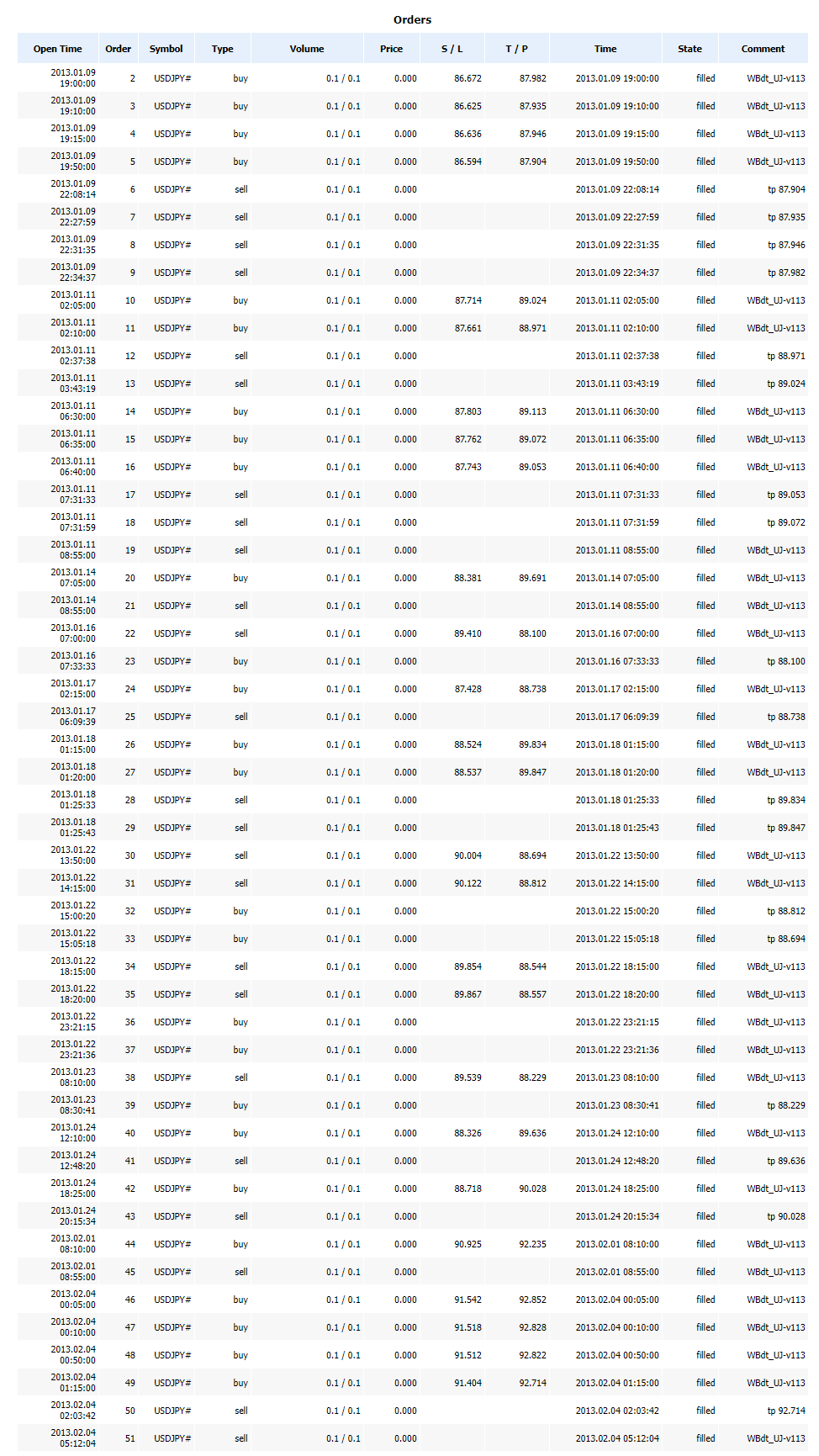 Disclaimer.
Forex trading can result in losses of more than a small amount of money compared to the total transaction value. In addition, foreign exchange trading may become impossible due to sudden changes in foreign currency conditions, closure of foreign exchange markets or other reasons deemed force majeure. The Company does not compensate for losses incurred as a result of trading using the software provided by the Company. Please always use your own judgement when making actual trades.
Margin trading involves the risk of price fluctuations and you may incur losses in excess of your investment. Trading commissions of the trader may also apply.
The system data in the Software is calculated based on historical data and does not guarantee future profits.
Please note that questions regarding investment advice cannot be answered within this software service.